Transport
Various vehicles are owned and run by the Jesus Fellowship/ Jesus Army. The most prominent have to be the brightly coloured Double Decker Buses. The Double Decker Buses are currently traversing the country, visiting towns and cities as part of the 'Ragamuffin UK Gospel Roadshow Tour'.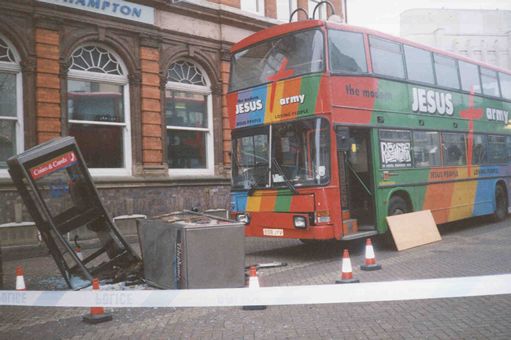 The 'Ragamuffin' tour hasn't been without technical problems (Christmas 2000).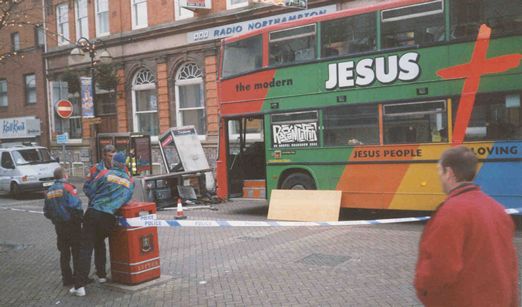 Part of Northamptons' pedestrian area is cordoned off, even to Jesus Army members.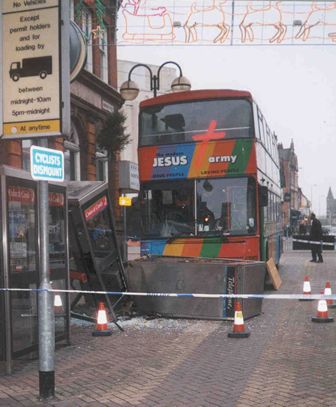 The soon to be converted Cannon Cinema can be seen in the background.
Other vehicles include a large number of equally brightly painted minibuses, which also double as DJ booths for some of 'Destinys' street parties, occasionally held on Northampton Market Square.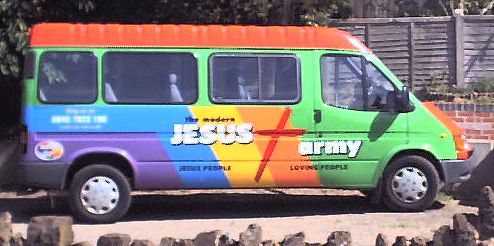 A Minibus.
Smaller vehicles are also painted in the Jesus Army colours.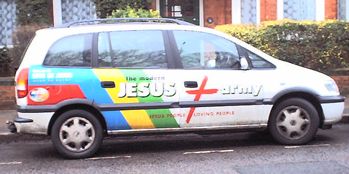 A car.
Larger vehicles too.


A trailer.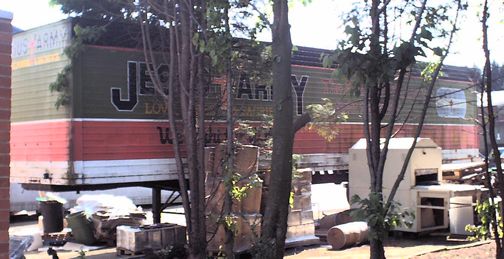 A trailer pre-dating the trade mark Jesus Army splat.
Others vehicles show bumper and windows stickers (available via the Jesus People Shop).


Links.

Cambridge Cycling Campaign: Jesus Army Dr Bike Clinic

Bus Pictures at Images Brighton, 1, 2, 3, 4, 5

Another picture of A Jesus Army Bus